Outbound Sales: 10 Commandments Of Cold Calling
When done correctly, cold calling is still a powerful sales tactic that may help you attract new clients for your business. Making calls to leads with a lousy script can be challenging, obsolete, and even a waste of time. However, by using the proper telephone sales strategies and adopting a more "human approach," you will improve your chances of converting cold leads into warm sales prospects.
Delivering value to your prospects while retaining their attention during the call is the best approach to raise the response rate of your cold calls. Every effort you make to personalize the conversation will help you build stronger relationships with your customers.
Ten Commandments of Cold Calling
Below are the ten rules for cold calling that every salesperson should follow:
Embrace Rejection
Every sales effort, from prospecting to closing, including inbound and outbound, will include rejection. Nobody ever closes all of their prospects. Making it into a game is the best approach to getting over your anxiety. Try to make as many calls as you can in an hour, then see if you can make more in the next hour. Keep reminding yourself how you are benefiting others.
Personalize Your Script to the Target Audience
Make sure you have done extensive research on the lead you are calling and your target market. Using a rehearsed pitch is one of the top cold calling tips. Organize the request into an introduction, building rapport, and a compelling positioning statement. Establish a respectful connection with the customer and demonstrate that you understand his or her difficulties.
Prepare Strong Closing
A cold call's natural interaction is usually a plus, and even if it drags on for a long time, that's certainly not a terrible thing. It might assist you in establishing a friendly atmosphere and developing rapport. An unsolicited call is intended to generate sales leads. It's possible that you won't convert on your first try. Asking qualifying questions to ascertain the personality, sales, viability, and pricing points can help you capture their attention. Consider their requirements, then prepare and carry out a strong closing.
Don't Give Too Much Information
This error is still often made by salespeople. When learning how to cold contact, the salesperson becomes so frantic to close the deal that they start ranting nonstop, lessening the effect of their call. Make sure you have a compelling purpose for contacting while conducting cold calls. This is because people are more likely to hang up the phone if they are uninterested in your goods or service.
Let Your Prospect Talk More
Letting a prospect talk is the key to learning about their problems. For this reason, salespeople should only talk for 30% of a cold call while listening for 70% of the time. Never have a one-way conversation on the phone. By engaging the customer with questions, you can involve them in the conversation. Be patient and pay attention to the prospect's fears and doubts. Speak honestly to the customer and give them a sense of value.
Don't Waste Time
It is your responsibility to create the most precise list of individuals to contact so you don't waste time on each call, determining whether you can help the person who answered the call. If you're careful about who you approach, you'll encounter rejection far less frequently. Make sure to only include businesses and connections on your prospect list that you think you can help.
Use Software and Tools
Modern salespeople have access to so many resources that they shouldn't ever again have to put up with tiresome, ineffective sales activities. Choose auto-dialer software, integrated CRM systems, and other cold calling solutions to increase productivity. Managers can use tools for real-time monitoring as well.
Find the Selling Point for Each Customer
This is a trick that many successful telemarketers employ when understanding how to cold call effectively. Once you've found your customer's buying trigger, turn it into a selling opportunity. Businesses in the same sector often face the same problems. This is your chance to increase the effectiveness of your phone-based sales.
Choose the Right Time to Call
Conversations over the phone can happen at any hour of the day or night. However, in order to get a favorable response, sales efforts must be timed correctly. Avoid lunch hours and pick a suitable off-peak business hour for B2B pitches. It is both customer-friendly and very beneficial to make a sales call at the opportune moment.
Ensure Follow-Up
The prospect can be greatly impressed by a single sales call. However, it is unlikely to produce a financially rewarding opportunity. Follow-up activities should be taken to turn the warm lead into a passionate purchasing customer. Making a scheduled call to the buyer the next day to remind them is always preferable.
Why Are Outbound Sales Important?
The important aspect of outbound sales is that you approach your leads directly through prospecting as opposed to waiting for them to contact you. With this proactive strategy, you can reach out to a very specific audience and only get in touch with those that match your ideal client profile. Additionally, since you're starting the discussion in a particular way, you can assess their effectiveness using pre-established sales KPIs. If you don't engage in any outbound activities, you risk losing out on possible clients in more lucrative markets. Outbound sales enable a business to go for the big fish, sell to a wider range of markets, and focus on the most valuable clients.
How to Make an Outbound Sales Call?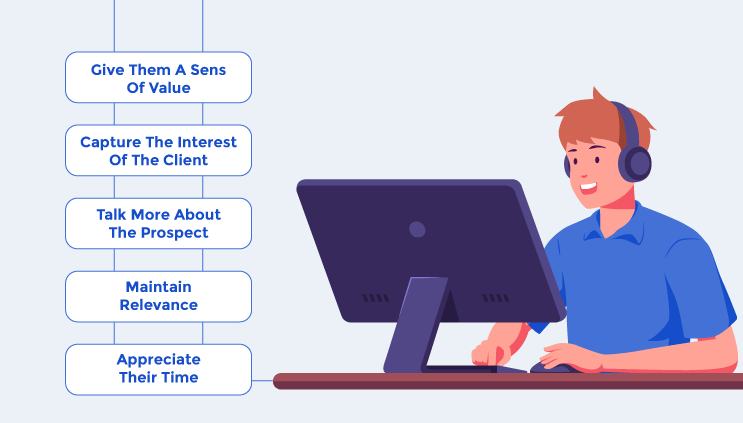 Here are some outbound sales call strategies that can help you increase your calls' efficacy while establishing a relationship with your customers.
Capture the Interest of the Client
You only have a few seconds to create a good first impression, so use them wisely. Always address the prospect by name. Don't immediately focus the conversation on yourself or your product; instead, provide room for an open dialogue.
Give Them a Sense of Value
Show that you are aware of their position, their difficulties, and their background and that you are interested in learning more. This way, they understand you have done your research and aren't approaching them out of the blue.
Appreciate Their Time
Keep in mind that your potential customer works a regular job. Ask them how much time they have before starting your pitch to avoid droning on.
Maintain Relevance
Informing the prospect of every feature and specifics of your services could overwhelm them. Keep your phone conversation relevant to their needs in order to ease their problems, satisfy their desires, and arouse their curiosity.
Talk More About the Prospect
During outbound calls, your goal should be to keep your prospects interested. The most effective approach to achieve this is to ask them value-based questions and then respond with value-based, prospect-focused responses. It's advantageous for both sides if you keep the focus on your prospect. They get to talk about themselves, and you get a chance to capture their interest compellingly.
Do's And Don'ts Of Outbound Sales Calls
Here is a list of the do's and dont's of the outbound sales calls:
Do's:
Do remember that rejection is not failure. Cold calling might be compared to unstructured market research. It's a potent technique to understand the industry and discover all of your top prospects. Pay attention to what others are saying and act on it.
Keep it brief. Getting someone to answer the phone and pay attention for more than a few seconds is difficult enough. In as few phrases as you can, briefly describe your goal, the benefits for the client, and your request for a meeting.
Be optimistic and organized. Know the person you're contacting and the message you want to deliver. You'll gain their trust if they feel comfortable asking questions and getting answers.
Do compose your message with care. Prospects feel more at ease when the words are well-chosen.
Don'ts:
Remember that the customer comes first and not just the sale. Make your pitch specific and let them know you understand if they say no.
Avoid attempting to address every objection. Resistance and defensiveness will be sparked by even the slightest suggestion of a contentious attitude. If your client becomes defensive, take it more slowly and step back.
Do not end the call without following up. Always plan a follow-up meeting with the prospect.
Don't let it bother you. There will be many prospects who decline, but they aren't rejecting you specifically. They are only stating that they are not a suitable fit for the product or service.
Wrapping It Up
These cold calling strategies can be a great way to increase your sales. All you need is some knowledge of psychology and a bit of experience. Although it may appear like cold calling is no longer productive, you can empower your sales team and make it so by selecting the correct software solution.
What Makes the Best Sales Engagement Software?
#1
Generate SQLs through LinkedIn Bot, dialer, 730M built-in leads database and email finder
#2
Build a perfect sales outreach cadence to engage leads
#3
All-in-One Sales Suite
#4
Social Media Bot Crawler
#6
Real-time Automated Reminders
#8
Smart Prospect Engagement
#9
Unbelievable pricing - the lowest you will ever find
#10
Everything your business needs - 50 apps, 24/5 support and 99.95% uptime
Join the SaaS Revolution
All-in-One Suite of 50 apps

Unbelievable pricing - ₹999/user

24/5 Chat, Phone and Email Support