Most Effective Sales Prospecting Techniques
Is prospecting truly necessary for the success of your company and team?
Maybe you don't understand why prospecting is necessary since you have a lot on your plate. Perhaps you are looking for a few big-name partners to acquire the majority of your available inventory and don't believe traditional prospecting is appropriate for your company.
Well, we are here to tell you that prospecting is essential if you want to be successful in sales.
Why Is Sales Prospecting Important?
Sales are rarely simple to close. It is also quite difficult to recognize new clients and interact with them in a meaningful, non-predatory sales-y way. Thus, sales prospecting is essential since it generates new opportunities.
What Are Some Common Sales Prospecting Techniques?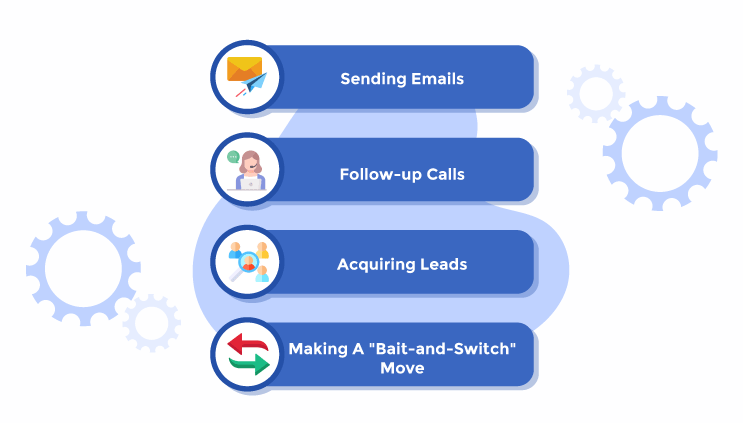 Here are some common sales prospecting techniques:
Sending Emails
Emails are the most effective way to inform your consumers about your products. You may rely on generic communications in order to reach as many individuals as feasible. However, impersonal interaction with a lead almost certainly results in their loss. In fact, according to NewVoiceMedia, one of their clients' biggest complaints (about 59% of people) was generic sales presentations. Thus, if your pitch has nothing to do with your clients, they will not respond favorably to it.
Doing Follow-up Calls
Sales follow-up via calls are an excellent way to entice customers to purchase your products. However, the number of attempts it takes to reach a lead can be aggravating. People are busy and less likely to answer their phones, and sales representatives have failed to adapt by calling more frequently. In fact, according to statistics, it takes eight cold calls to reach a prospect and 18 calls to acquire a purchase.
Acquiring Leads
A corporation may get vital contact information almost instantaneously by acquiring leads, increasing its chances of converting prospects into clients. Buying random leads may seem like a quick way to expand your prospecting database, but doing so will get you nowhere quickly. If your leads aren't a good fit for your business, you may see lower open rates, more complaints, and fewer purchases.
Making a "Bait-and-Switch" Move
A prospect may be irritated if you approach a meeting with the assumption that you only want their opinion when you want to have a sales meeting with them. This is called a Bait-and-Switch move and has been used in marketing for decades. However, the time has come to change the move.
Why Are These Techniques Ineffective?
Here are a few reasons as to why the aforementioned techniques are ineffective:
Impersonal Emails
A long-term partnership requires the cultivation of a connection. Messages that are generic harm this. A generic message displays a lack of initiative to get to know them. Personalized emails, on the other hand, demonstrates that you care about them as individuals and want to address their issues with your answer.
No Follow-Up Calls
The follow-up offers value to the service or product that the customer acquired from you and allows you to create a connection that might lead to future purchases from the same customer and referrals to new potential clients. Lack of a follow-up call breaks this relationship you have with your consumer resulting in future revenue loss.
Drawback Of Buying Sales Leads
Leads obtained from a purchased business email list have shown no interest in your organization and may have never heard of you before. Thus, your sales staff will have to start from scratch with a cold lead. You may have to persuade prospects of your worth without knowing what they want to hear from your company or even if they want to hear anything at all.
Drawback Of Bait-and-Switch
The "bait-and-switch" strategy may increase the likelihood of individuals meeting with you, but it will simply result in you eroding trust with a potential customer. It will make you appear to be a sleazy salesman.
How Can You Make These Techniques More Effective?
In order to increase the effectiveness of the mentioned techniques adhere to the following pointers:
Impersonal Communication
You must always make it appear as though you're chatting to them directly rather than sending out an email blitz. Similarly, instead of spending too much time talking about how fantastic your solution is, mix it up to illustrate how you can benefit them.
Multiple Calls
You should call your leads more than once or twice. You can set up a rhythm rather than becoming sidetracked or giving up. With a sales cadence, you may schedule precise times and media to ensure that you contact your prospect sufficiently. Your prospect may also be less inclined to become irritated, and your conversation will be more effective.
Leads Acquiring
Leads of high quality are an investment. To obtain such leads, reach out to former clients, be active on social media, and get recommendations. This way you may have some of the greatest leads at your disposal.
Alternative to Bait-and-Switch
When you want to schedule a demo, be straightforward with leads. You must not attempt to portray your meeting as anything other than a discussion of your solution with them. Similarly, offering a "free reward" to entice them would almost certainly backfire on you.
What Are Some Effective Sales Prospecting Techniques?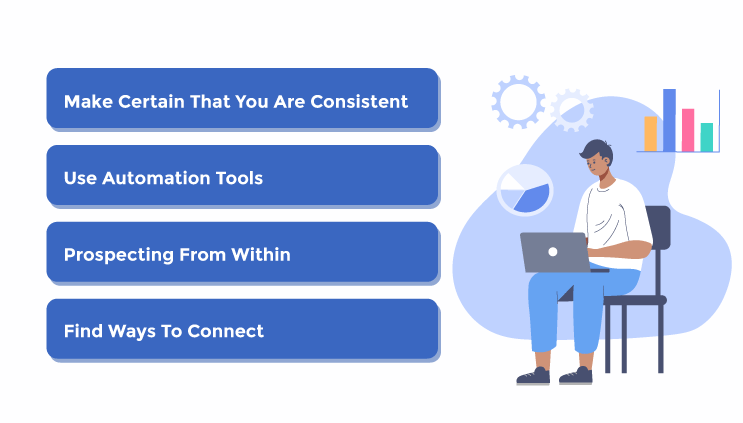 Some of the effective sales prospecting techniques include:
Remain Consistent
Even if you don't have the right funnel, prospects, or product, being consistent in connecting with and following up with your leads may have tremendously significant benefits, helping you overcome even the most persistent rejections.
However, in order for this to happen, you must develop a company-wide strategy about how you approach each sales prospect. Your team must understand how long they should follow a prospect, how frequently they should contact them, and what tools and tactics they should employ.
Use Automation Tools
There are several sales automation solutions available that may speed up or automate key procedures, giving you more time to work with prospects. Automation technologies may help you make the most of the available time and make your sales team's job easier, whether it's writing high-quality content, engaging prospects on social media, or even obtaining contact information for the individuals you want to target.
Prospect From Within
Inbound prospecting has received tremendous attention from marketers as the primary way of prospecting development in the previous 15 years. Inbound marketing and prospecting strategies may considerably enhance your marketing outcomes without requiring continuing expenditure when executed effectively. Thus, with a well-thought-out marketing strategy in place, excellent content and offers, and good funnel building and marketing automation, your investment in inbound may pay off consistently over time.
Find Ways To Connect
Whether by phone, email, or social media, having the correct contact information for the appropriate person may make or break your business. Thus, knowing who you want to target is important, but only if you have a procedure in place to reach those leads. Sector, you must discover the leads you want to target, their requirements, and how your product may help and engage in various sales prospecting techniques. Alternatively, you utilize lead generation services like Outreachly by 500apps and make use of their extensive network and database access to locate verified and up-to-date contact information.
Summing It Up
Sales prospecting requires effort and may not be as thrilling as completing transactions, but the number of sales chances you produce will most likely influence your company's success. Any organization can create a highly efficient process for creating high-quality prospects, especially if they have a clear grasp of their target demographic and a few key prospecting tools.
One such tool is Outreachly by 500apps. The application provides everything you need for Sales Engagement in one place, including a dialer, a scheduler, email tracking, and an email finder. You can also use automated bots, and scrape information from Twitter, LinkedIn, and Google to produce a complete list of prospects. You can visit the 500apps website to learn more about this tool.
What Makes the Best Sales Engagement Software?
#1
Generate SQLs through LinkedIn Bot, dialer, 730M built-in leads database and email finder
#2
Build a perfect sales outreach cadence to engage leads
#3
All-in-One Sales Suite
#4
Social Media Bot Crawler
#6
Real-time Automated Reminders
#8
Smart Prospect Engagement
#9
Unbelievable pricing - the lowest you will ever find
#10
Everything your business needs - 50 apps, 24/5 support and 99.95% uptime
Join the SaaS Revolution
All-in-One Suite of 50 apps

Unbelievable pricing - ₹999/user

24/5 Chat, Phone and Email Support