Benefits of a Sales Engagement Platform: Why You Need One?
Although the use of sales engagement platforms has increased in the last year among revenue companies, the notion of sales engagement is as ancient as selling itself. Sales engagement, at its heart, explains the multiple interactions that sellers have with prospects and customers along the buyer's journey. Each successful touchpoint, whether by phone, email, or in-person, gets the buyer closer and closer to becoming a client.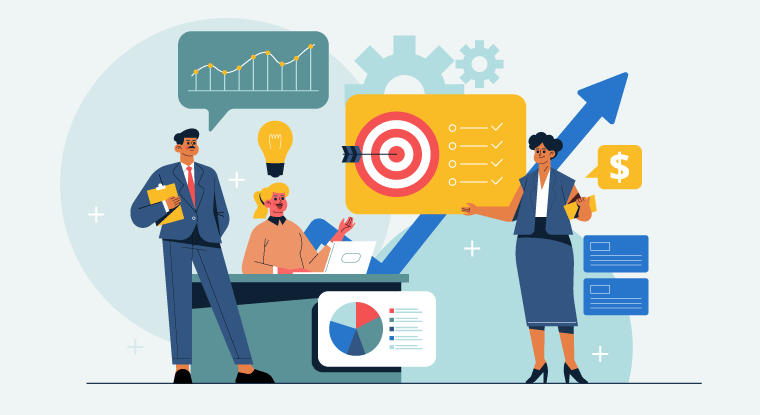 Today's customers are time-constrained, likely to be conducting their own research, moving at their own speed, and prospected by competitors at every step. This has altered the norms of engagement for sales teams across industries. Thus, a multi-touch buying experience that is tailored to the prospect's industry and pain areas is now essential for breaking through the noise, keeping in touch, and leading them through the journey. This is where a sales engagement platform comes in.
In this blog, we'll define a sales engagement platform and discuss the benefits it may provide for your customer-facing staff.
What is a Sales Engagement Platform?
Studies show that sales engagement platforms are important to the success of 92 percent of sales development companies. A sales engagement platform is software that assists your sales team in prospect management, engagement and customers across many channels by assisting sellers in staying organized and streamlining their work day via cadences, automation, and interfaces with other sales tools.
Benefits Of a Sales Engagement Platform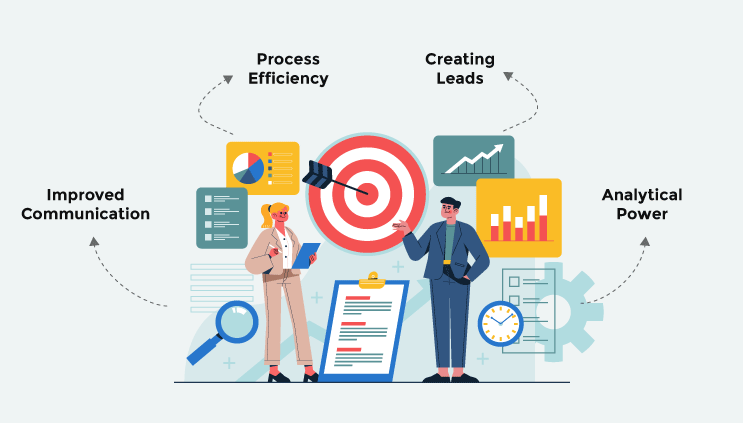 Here is a list of a few benefits of sales engagement platforms:
Improve Communication
You may now communicate with your prospects in a variety of ways. A sales engagement platform streamlines your sales team's interactions with clients in all fields. This solution can combine several sales tools such as your voice, email inbox, content management systems, and social media accounts, all in one spot. Furthermore, you may now reach out to your prospects all at once with simple automated and personalized emails.
Get Analytical Power
Once a sales interaction platform is deployed, teams should experience a considerable increase in productivity. However, improvements in performance and income do not end there. As no market is the same, different forms of communication will work better for different individuals. As a result, the finest systems incorporate capabilities for measuring the success of each prospect touchpoint. Measuring these touchpoints enables sales teams to troubleshoot, develop, and improve their products for the target market. In fact, many platforms will assist salespeople in selling smarter by utilizing the appropriate kinds of communication with the right tone at the right time.
Process Efficiency
Sales engagement platforms are useful tools for assisting businesses in operating more efficiently. With all of your data and communication in one location, teams can save time on non-profitable chores like switching between apps or checking in. Many of the best interaction platforms on the market today include intelligence systems built in. The built-in intelligence and sophisticated feature of sales tracking allows you to focus your efforts on effective selling. These will undoubtedly help you get more time to follow up with leads, schedule more meetings, reduce your sales cycle, and stay satisfied at work.
Create Leads
Sales engagement solutions deliver relevant lead-generating material 24 hours a day, seven days a week. These assist sales representatives in providing value-added efforts at the appropriate time. An engagement platform also gives prospects the most relevant information as and when it is needed without wasting time.
Why do You Need a Sales Engagement Platform?
It's much simpler to make decisions based on what's working for your business when you have a comprehensive birds-eye perspective of every step in the consumer experience. You can learn when it's best to call a prospect and when it's better to send an email. You can also gain an insider's perspective on the kind of language and sales follow-up methods that work best with your target demographic.
While CRM solutions and sales enablement platforms may provide some of the information that sales teams want to drive improved results, their capabilities are limited. These technologies can only show you a portion of the sales process rather than providing you with access to every discussion and intelligence in one location. On the other hand, sales engagement platforms can inspire a better sales team, as well as produce improved outcomes for your customers.
How to Implement a Sales Engagement Platform?
Before you begin looking for a sales engagement platform, make sure you have a thorough grasp of your team, their workflow, and the present data. Analyze your data before adopting a sales engagement platform to ensure it is as precise as possible. Account types, industries, and any other pertinent data will be useful for segmenting and prioritizing your accounts.
Involving the sales team early on can assist you in determining the best sales engagement platform for your firm. You can gather input on their current sales process, favorite tools, and any current difficulties so that your sales engagement platform launch may provide plenty of fast wins. You must also confirm with the sales staff what success looks like and how it can be assessed from day one. The number of high-quality interactions per sales agent, enhanced conversion rates, and improved objection management are all excellent indicators.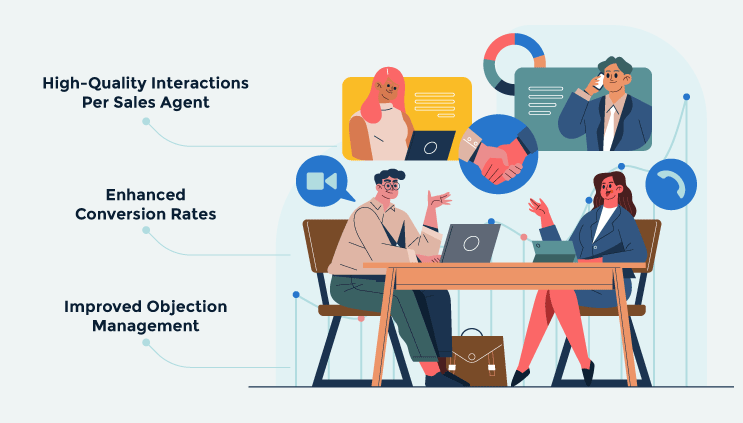 It's also critical to understand how a sales engagement platform will affect the lead management process, as well as how you'll rate incoming and outgoing prospects. What leads are prioritized is determined by the lead management process and lead score. Failure to take this into account may result in your sales staff contacting leads with the lowest likelihood to buy, resulting in poorer conversion rates.
Summing It Up
Sales interaction systems provide several benefits to team reps who understand how to use them. These systems offer simple customization tools based on usage. By automating their client encounters, sales teams all across the world are closing transactions and growing leads.
Every day, new and improved technologies are introduced. Outreachly is a sales engagement software developed by 500apps. It includes an organized set of tools to handle your prospect research and keep track of calls, emails, and social media interactions. It makes use of smart bots to land potential leads in bulk. Outreachly offers all the advanced features like dialer, AI writer, scheduler, task management, and email tracking. Visit the 500apps website to learn more!
What Makes the Best Sales Engagement Software?
#1
Generate SQLs through LinkedIn Bot, dialer, 730M built-in leads database and email finder
#2
Build a perfect sales outreach cadence to engage leads
#3
All-in-One Sales Suite
#4
Social Media Bot Crawler
#6
Real-time Automated Reminders
#8
Smart Prospect Engagement
#9
Unbelievable pricing - the lowest you will ever find
#10
Everything your business needs - 50 apps, 24/5 support and 99.95% uptime
Join the SaaS Revolution
All-in-One Suite of 50 apps

Unbelievable pricing - ₹999/user

24/5 Chat, Phone and Email Support