How To Choose The Right Sales Engagement Platform For Your Business?
From communicating through emails to voice contacting potential clients, sales engagement allows several businesses to streamline their communication strategies to connect with qualified prospects. When it comes to business, nurturing a healthy and long-lasting relationship with the customers is the key to achieving success. In fact, statistics show that about 87% of the business leaders in sales marketing are willing to invest in a sales engagement platform to form strong relationships with their customers. Your business makes for a good one when you strategize a good sales engagement plan to drive sales and revenue by establishing a closer connection with your customers.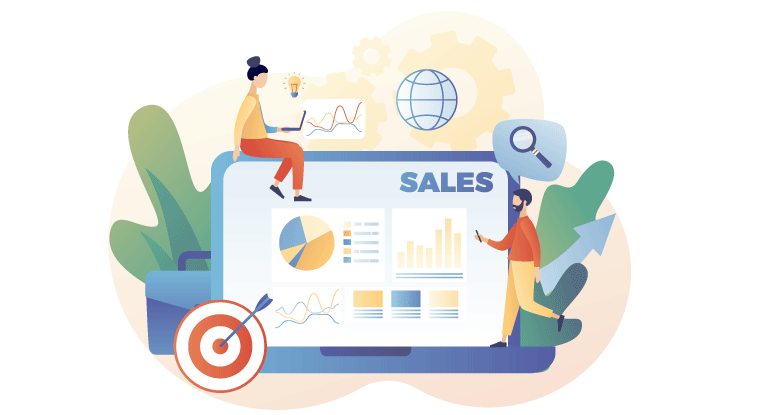 What Is a Sales Engagement Platform?
A sales engagement platform (SEP) is a platform that allows you to embrace engagement with prospective customers across different communication channels. A sales engagement platform enables you to call, send an email, or schedule a meeting, which significantly improves sales.
A sales engagement platform is a simple platform that enables you to close more deals with the clients and offers personalized messaging means for a better engagement with your customers and prospects. The CRM integration in the sales engagement platform is a great way of saving business-critical hours since it eliminates the need to manually message each customer. A good sales engagement platform automates tasks like researching prospects, scheduling phone calls, tracking the data, and following up with the customers, thus increasing the efficiency of your business.
Why Do You Need a Sales Engagement Platform?
The main reason to invest your resources in a sales engagement platform is that it helps you close deals faster by enabling your organization to engage with prospects with personalized outreach campaigns, helping you keep track of updated CRM data, and integrating all sales tasks in a single platform. When you analyze the data and metrics of the sales offered by your sales engagement platform, you get the ability to identify potential leads with ease.
A sales engagement platform maintains a built-in communication tool that automates the manual work of emailing, calling, and interacting with qualified prospects via social media. This platform provides you real-time data reports of the overall performance of your sales team. It also allows you to have customer interactions with a robust CRM that syncs the data, including information like email clicks, bounced emails, and number of prospects who unsubscribe, all of which enable your sales team to tread necessary steps to better engage with prospects without losing valuable leads.
When you trust in the right sales engagement software, such as OutReachly, designed by 500apps, you open new doors for improving your customer management platform by building a strong relationship with the prospects. OutReachly is one of the latest software models specifically designed for your business needs, such as researching prospects, making calls, sending emails, and video mailing. From providing dialer and scheduler to email tracking and task management, OutReachly is a multitask software tailored for all business-critical tasks.
How to Choose the Right Sales Engagement Platform?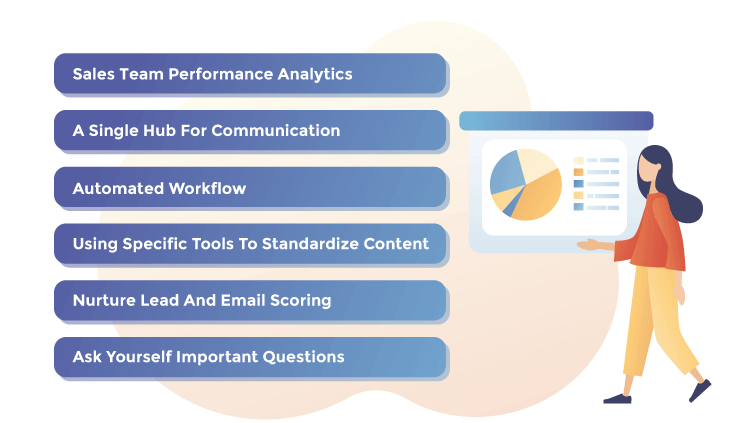 There are certain points to keep in mind while choosing the right sales engagement platform for your business.
Offer Sales Team Performance Analytics
When you choose the right sales engagement platform, you should keep in mind to invest in software that provides you with real-time reports of the sales team's performance. It helps you understand the number of prospects that are not consistent and keep track of the improvement your team makes through the conversations. Understanding the exact goal should be your first priority. Therefore, you should ensure to analyze the areas that need to be improvised and customize a plan according to the customer's needs.
Ensure Single Hub For Communication
Day-to-day tasks can turn out to be quite exhaustive. Having said that, it is essential to have a standard communication hub that allows your sales team to work in one place. A sales engagement platform should provide a single, intuitive dashboard for communicating with customers through phone calls, emails, social media, or SMS. When the sales team gets access to all information in one place, it becomes convenient to retrieve any important information by going through prior conversations in one place instead of searching in scattered places.
Allow Automated Workflow
As every business owner seeks automation in the software, you should never compromise on it. A good sales engagement platform should automate menial sales tasks and eliminate the need for manual intervention. Automation of several tasks like calls, emailing, and dialer helps you get real-time updates on customer engagement data. Investing in automated personalized emails like welcome emails, offer and latest deal emails, and confirmation emails helps you build a strong relationship with your customer. A sales engagement platform with automated functionalities assures customer satisfaction throughout the process and allows your sales team to indulge in more crucial marketing endeavours.
Use Specific Tools To Standardize Content
A good sales engagement strategy requires investing in a good sales engagement platform that manages the content. A sales engagement software uses specific tools to create personalized email templates and phone scripts that allow your sales team's pitch to remain top-notch. Developing personalized calls and emails helps the sales representatives to easily deliver the required content in a consistent and efficient way.
Nurture Lead And Email Scoring
Generating sales qualified leads is not the end of work. You should always keep track of the leads and employ suitable software to manage the lead generation score. A decent sales engagement software finds, categorizes, and groups the qualified leads that need to be prioritized for the pitch. You should also nurture the email sender reputation assigned to your organization by the Internet Service Provider (ISP). The higher the score is, the better your email deliverability will be. A dependable sales engagement platform also helps you optimize your email marketing campaigns by understanding the behaviour of your prospects.
Ask Yourself Important Questions
Before choosing the right sales engagement platform, ask yourself whether the software has enough flexibility that caters to the customers' needs on priority. For instance, you should check whether there is a mobile app to receive quick updates from the CRM and if there are important features like click-to-call, tracking of phone calls, call recording, live power dialer, and recorded voicemail dropping options.
You should ensure that your sales engagement platform integrates well with the existing platform. The existing workflow needs to remain the same while going through an upgrade. No pre-existing tasks should be disrupted through the process. In order to ensure that, you should consider all possible criteria that check the box list and evaluate every new feature that fits well within your current business model.
Benefits Of Having A Sales Engagement Platform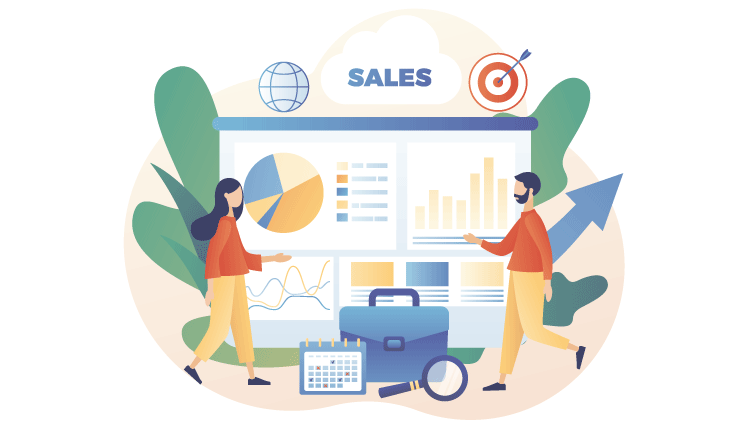 As the core point of initiating the right sales engagement platform to your regular business flow is to boost the communication of your sales team and the customers, there are yet a few more benefits you can reap from the platform.
Saves time by sending out automated messages to the prospects
Helps you monitor calls, emails, and follow-up with potential clients
Provides real-time updates of customer engagement metrics
Allows your sales team to personalize the prospect engagement with a strong dialer or click-to-call options
Save time while ensuring the prospects get the right attention on time through the phone call feature
Allows a sales team to provide accurate information to the prospects
Helps the sales team improve the conversation with customers through structures follow-up plan
Gathers all sales tasks in a single platform to implement various marketing strategies on hand
How to Get Started With a Sales Engagement Platform?
It is essential to invest in a robust sales engagement software that provides different channels for communicating with prospects, giving real-time recommendations for messaging, offering in-depth analysis of the sales engagement, and automating manual tasks that consume much time.
In order to get started with SEP, you must:
Choose the right SEP
Organize different roles And responsibilities in the team
Set up a real-time reporting process
Connect with the salesforce team to determine the process
Discuss the pain points requiring automation and customization
Prioritize the team to work on shielding emails from spam
Analyze the performance data to optimize the sales engagement
Invest in a good sales engagement software to close deals and generate qualified leads
Summing It Up
If you are a business-driven person seeking a way to boost customer engagement through a sales engagement platform, you are at the right place. Since a sales engagement platform enables an organization to build a long-standing relationship with their customers, investing in a reliable sales engagement software helps you through all the steps involved in building a strong connection with the prospects to turn them into loyal customers.
OutReachly by 500apps is one such remarkable sales engagement software. With this software, you can gain leads in bulk and benefit from the automated system of working. OutReachly is your go-to software for all your sales engagement needs, as it offers a bunch of intuitive features that assist you in engaging with leads and customers right from scratch. For further information about these software features, visit the 500apps website today!
What Makes the Best Sales Engagement Software?
#1
Generate SQLs through LinkedIn Bot, dialer, 730M built-in leads database and email finder
#2
Build a perfect sales outreach cadence to engage leads
#3
All-in-One Sales Suite
#4
Social Media Bot Crawler
#6
Real-time Automated Reminders
#8
Smart Prospect Engagement
#9
Unbelievable pricing - the lowest you will ever find
#10
Everything your business needs - 50 apps, 24/5 support and 99.95% uptime
Join the SaaS Revolution
All-in-One Suite of 50 apps

Unbelievable pricing - ₹999/user

24/5 Chat, Phone and Email Support